10:40 am – 11:40 am | Presentation | Room: Forum 14-16
R U Ready to Rule?
Presented by: Cindy Scullion

Have you decided the time has come to get your organization on the business rule path? Wondering what it will take to ensure success? This presentation will give insight into the five considerations that are critical success factors for any organization embarking on a new adventure in the business rule space. What is critical? Concept model, standards, governance, methodology and people.
What you will learn about the 5 critical success factors:
Why each is important to the overall success of an organization
What is the minimum that is needed for each factor
How to get started establishing each factor
What Attendees Will Learn:
Understanding what it takes to get started
Knowing what is mandatory versus optional
Ability to identify the critical success factors
Event Trail(s)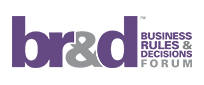 Speaker(s)

Cindy Scullion
Senior Consultant
Business Rule Solutions, LLC
Cindy Scullion is a Senior Consultant with Business Rule Solutions, LLC (BRS). She has worked with numerous companies in industries such as the energy sector (power, oil & gas), transportation (rail), insurance, health care, finance, and hi-tech. Cindy is a key member of the BRS team, assisting numerous clients with all facets of business rule management. She also conducts training in RuleXpress, the business rule management tool from RuleArts. Her thirty-plus year career has encompassed roles as management consultant, project manager, business analyst and coach/mentor.
Cindy's 2016 Presentations:
R U Ready to Rule?


Thursday, November 3, 2016 (10:40 am – 11:40 am)