4:50 pm – 5:50 pm | Presentation | Room: Forum 6-8
"Why" and "What-If" Buttons for Business Decision Management
Presented by: Jacob Feldman

In 2013 Ron Ross wrote: "Imagine you had a Why Button handy whenever you encountered some disconnect in day-to-day business operations. Hit the Why Button and presto - answers appear in the form of relevant business rules." Why Buttons are really important for modern business decision management systems. At the same time, practical decision model analysis also requires What-If Buttons, which support continuous change in decision models. It is not enough to simply modify some thresholds in already defined business rules as the majority of rules-based systems do quite well. People, who maintain decision models in day-to-day operational environments, are looking for a new type of decision modeling, execution, and analysis tools. Such tools should allow business analysts to deactivate some rules, define and activate new rules, and immediately see the impact of these actions on key decision variables. In this presentation we will explore a business-oriented web interface that includes Why, What-If, Compare, Optimize, and other buttons allowing business analysts to analyze and modify their decision models by activating/deactivating business rules, comparing resulting decisions, and even recommending those decisions that optimize certain business objectives.
What Attendees Will Learn:
Understanding of practical decision model analysis
Learn how activation/deactivation of business rules may effect key decision variables
Learn how different tools ("buttons") may assist in real-time what-if analysis
Event Trail(s)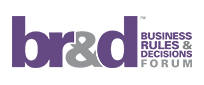 Speaker(s)

Dr. Jacob Feldman
Founder / CTO
OpenRules, Inc.
Dr. Jacob Feldman is the CTO of OpenRules, Inc., a NJ corporation that created and maintains the highly popular Open Source Business Rules and Decision Management System commonly known as "OpenRules" (http://openrules.com). He has extensive experience in development of decision support software using business rules, optimization, and machine learning technologies for real-world mission-critical applications. He is a frequent presenter at the major business rules events and a contributor to www.DMCommunity.org and other Decision Management social forums. Jacob is also a Specification Lead for the JCP standard JSR-331. Dr. Feldman is an author of the book "DMN in Action with OpenRules" - see www.DMNinAction.com
Jacob's 2016 Presentations:
"Why" and "What-If" Buttons for Business Decision Management


Thursday, November 3, 2016 (4:50 pm – 5:50 pm)