8:00 am – 8:50 am | Presentation | Room: Roman III & IV
Taking a First Step with Business Rules
Presented by: Rusty Nicola

Business rules were used in many areas of Bond but had not made their way into the Claims department at the point this project was being considered to be implemented. The project was complex and called for taking a very manual process and replace it with an automated process with the inclusion of business rules. What made this project "unique" was the way in which business rules were going to be used. The rules were mostly going to be calculation rules and security rules as opposed to "traditional" business rules, i.e. eligibility, underwriting, credit score, and so on.
The rules were based around the way Claims wanted to "bucket" the claims to be reviewed based on well defined rules. They also wanted to implement rules for security on what reviewers could see, what managers could see, and what a claim adjuster being reviewed could see. The "buckets"/groupings were based on rules the counted open claims in the various business units like Crime, Construction, Commercial Surety, and so on. The separation of the business units also included rules that governed whether public officials were included/excluded, the same for notary and non-construction people in the Construction bucket.
Debbie Kramer, Business System Consultant, had this to say about the project:
" It is always nice when we can share a success! What had in the past taken hours (if not days) to complete, took only minutes to generate this morning. We reviewed them internally this morning and our numbers are looking good!"
What Attendees Will Learn:
Thinking outside of the box to use rules
Implementing rules saved on VB coding
Huge time saving for the business
Event Trail(s)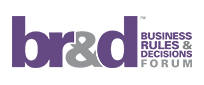 Speaker(s)

Rusty Nicola
Sr. Software Developer
Travelers
I have 38 years of experience in IT the last 16 developing business rules and rule implantations. I have worked for The Hartford on rules teams for both Personal Insurance and Business Insurance starting as a developer and working up to being the architect for rules projects. I have worked on rule projects for CIGNA during a re-write of their policy administration project as a rule developer. I was the lead architect for a rules management software product called Rule Guide for a company named New Wisdom Software. Currently I work for Travelers in the Bond department as a Sr. Software Developer/Tech Lead for the rules team.
Rusty's 2016 Presentations:
Taking a First Step with Business Rules


Friday, November 4, 2016 (8:00 am – 8:50 am)