2:00 pm – 3:00 pm | Presentation | Room: Forum 6-8
Successfully Implementing Knowledge-Based IT
Presented by: Joe Dickman, Ken Spokas

This talk will cover how efficiencies can be gained through the alignment and integration of Business Process Management (BPM) with Business Rules Management Systems (BRMS). During which, we will discuss practical and field-proven approaches that take a more holistic approach at defining business processes that affect business across the the enterprise.
Event Trail(s)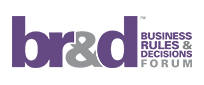 Speaker(s)

Joe Dickman
SVP
Vizuri
Joe is a business executive working with organizations to understand how to leverage innovation for increased business agility. An early adopter of open source, he started and has grown Vizuri to be an award winning, premier services partner with market leaders such as Red Hat and Docker. Joe is an active member and speaker within the Open Source Community with more than 30 years of experience as a technical architect, developer, and business leader. Joe specializes in helping visionaries - large and small - implement innovative, pragmatic technology solutions that address real-world challenges.
Joe's 2016 Presentations:
Successfully Implementing Knowledge-Based IT


Wednesday, November 2, 2016 (2:00 pm – 3:00 pm)

Ken Spokas
Technical Director
Vizuri
Ken Spokas is a Technical Director and Software Architect with more than 17 years of experience leading successful projects of various sizes and scopes. He specializes in building rules- and process-centric solutions that use Red Hat products. As an enterprise Java architect, he has used open source frameworks, such as Camel, Drools, jBPM, and Hibernate to quickly solve complex problems.
Ken's 2016 Presentations:
Successfully Implementing Knowledge-Based IT


Wednesday, November 2, 2016 (2:00 pm – 3:00 pm)