4:50 pm – 5:50 pm | Presentation | Room: Forum 6-8
Revolutionizing Application Development with Decision Management
Presented by: Kramer Reeves, Lloyd Dugan

In this session, we will explore how business users are discovering, validating and deploying decision logic as a living model in low-code application development, and improving implementation of business change. We'll hear from a client – Serco, a services company – on their use of decision modeling and management tools and how they work with their own government accounts to deploy complex business logic, regulatory changes and decision logic across various applications. Join us as we engage in a lively Q&A dialogue about the real world challenges and successes in transforming operations utilizing Decision Management and low-code development to turbo-charge business logic for even greater applicability, rigor and impact.

Attendees will learn about:
Case study on adoption
Methods complementing standards
Vision into the future of Decision Management
Event Trail(s)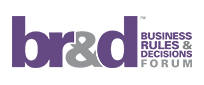 Speaker(s)

Kramer Reeves
VP of Product Marketing
Sapiens
Kramer Reeves has 20 years of experience in the enterprise software industry leading global product, marketing, strategy and channel organizations. He is currently Vice President of Product Marketing at Sapiens DECISION where he sets the vision, portfolio strategy and go-to-market plans for the company. Previously, he held numerous executive and management positions at IBM, including Director of Product Management for Enterprise Social Solutions, and Director of Global Marketing for IBM's Business Process Solutions portfolio, leading IBM's Business Process Management (BPM) and Operational Decision Management (ODM), Business Rules and Event Processing software portfolios and IBM's Service Oriented Architecture (SOA) strategy. Kramer is the co-author of the book "The COO Revolution: Reinventing Customer-Facing Processes for Moments of Truth."
Kramer has a BS in Engineering from Virginia Military Institute and an MBA from the University of North Carolina at Chapel Hill.
Kramer's 2016 Presentations:
Revolutionizing Application Development with Decision Management


Wednesday, November 2, 2016 (4:50 pm – 5:50 pm)

Lloyd Dugan
CMS-ES Integration Architect
Serco, Inc
Lloyd Dugan is a widely recognized thought leader in the development and use of leading modeling languages, methodologies, and tools –" from EA and BA down through BPM, ACM, Decisions/Rules, and SOA. He specializes in the use of standard languages for describing business processes and services, particularly BPMN, CMMN, and DMN from the OMG. He has provided IT advisory services to public and private sector clients for 30 years, and his experience ranges from BPR to all phases of the SDLC. He also develops and delivers training in these disciplines and techniques, with clients including the DoD, IT consultancies, and large BPOs. He is a noted author and frequent presenter at major conferences on BPM and BA, and is considered a leading expert in BPMN (including being OCEB Certified and working with the OMG's BPMN Model Interchange Working Group) and how to use it for simulating business processes (including working with the Workflow Management Coalition's Business Process Simulation Working Group). He is also a Contributing Member of the BA Guild (including working on the BA meta model). He currently serves as the Integration Architect for Serco, Inc., Serco's US subsidiary, where he provides technical advice and work in support of Serco's services contract for Affordable Care Act eligibility processing. He recently presented a case study on the use of Sapiens DECISION technologies as part of the technical services performed by Serco for the Center for Medicare & Medicaid Services (CMS).
Lloyd's 2016 Presentations:
Revolutionizing Application Development with Decision Management


Wednesday, November 2, 2016 (4:50 pm – 5:50 pm)