3:10 pm – 4:10 pm | Presentation | Room: Oceana 8-10
The Life of a Business Rule: Enabling Impact Analysis through Traceability
Presented by: Kristen Seer

Business rules lead an interesting life. From a project perspective, they are 'discovered' during business analysis and 'implemented' in a system. But their lifecycle really begins much earlier – that is, when they first become known to the business (e.g., when legislation is enacted, regulations are imposed, etc.). In addition, their lifecycle doesn't end once the system is implemented. For a rule, that's just when things get interesting, with the rule being applied on a daily basis, changed as time goes on, and, finally, being 'retired' when no longer needed.
With such an active lifecycle, how best to manage the rules and ensure that they are changed when and where they need to be? The key is traceability – knowing where a rule came from and where it is implemented. This interactive session discusses what you need to know to be able to perform impact analysis of your rules.
What you will learn:
Which stages of a rule's life are important
What traceability means
How traceability supports impact analysis
Learning Objectives:
To learn about rules and their lifecycle
To better understand how to manage business rules
To understand how traceability supports transparency and compliance
Event Trail(s)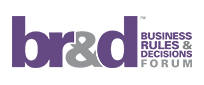 Speaker(s)

Kristen Seer
Senior Consultant
Business Rule Solutions, LLC
Kristen Seer is a Senior Consultant with Business Rule Solutions, LLC. She has worked as a business analyst in industries such as retail, pharmaceuticals, insurance, finance, energy and government.
Her practice focuses on helping clients introduce the business rules approach, including setting up centers of excellence, conducting training in harvesting and expressing Business Rules, mentoring business analysts, facilitating sessions to capture business rules, harvesting rules from source documents, redesigning business processes, and analyzing decisions.
Her thirty-year career has encompassed roles as business analyst, rule analyst, data analyst, and project manager. Kristen is a popular speaker at the annual Building Business Capability conference (www.buildingbusinesscapability.com) and has written several articles published in the Business Rule Journal (www.brcommunity.com)
Kristen's 2017 Presentations:
The Life of a Business Rule: Enabling Impact Analysis through Traceability


Wednesday, November 8, 2017 (3:10 pm – 4:10 pm)