11:50 am – 12:50 pm | Presentation | Room: Oceana 8-10
Financial Services and Decision Management: Together Again
Presented by: Brian Stucky

The Financial Services industry was one of the earliest adopters of Business Rule and Process Management across a variety of applications. Process-centric enterprises where business rules were prevalent found these techniques to be ideal for their day-to-day operations. While the platforms evolved, the Financial Services industry went through dramatic changes culminating in the crisis of 2008. Now Decision Management – both as a methodology and a technology – has been viewed as both a culprit and a necessity moving forward in a new era of financial regulation and scrutiny. Rapidly changing regulations, increased compliance, and a need for transparency necessitate speedy and accurate application across a multitude of systems. However, traditional methods produced systems that just aren't agile enough to meet this need – and only for the select few companies that had the expertise and money to implement. This talk will focus on emerging technologies and the new DMN standard which together can provide the opportunity for new exciting approaches to meet these critical needs. More importantly, they can enable a new set players that were previously left on the sideline.
Attendees Will Learn:
The role of Standards
Importance of Agility
Practical application of DMN
Event Trail(s)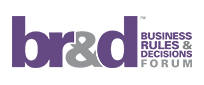 Speaker(s)

Brian Stucky
Managing Director, Business Decision Management
Allegiance Advisory Group
A recognized thought leader in decision management, Brian brings nearly three decades of experience designing and implementing business rule and process management systems for both commercial and Federal clients. At Freddie Mac, Brian served as the Enterprise Rule Steward where he set the business and technology strategy for business rule development across the corporation. He is a regular contributor to the Business Process Management Institute and he works with many software vendors. Brian is now beginning his third year as co-chairman of the Mortgage Industry Standards and Maintenance Organization BREW (Business Rule Exchange Workgroup) committee.
Brian's 2017 Presentations:
Financial Services and Decision Management: Together Again


Thursday, November 9, 2017 (11:50 am – 12:50 pm)