9:00 am – 10:00 am | Presentation | Room: Timor 1 & 2
How Business Analysts Build Executable Decision Models Using DMN
Without Programming
Presented by: Jacob Feldman

The recently introduced OMG standard "Decision Model and Notation" (DMN) promises to bring standardization to business decision modeling with a strong orientation to business analysts as people who are supposed to create, test, and maintain operational decision models. DMN offers standardized formats for decision requirement diagrams and various decision tables which business analysts love to use in real-world decision modeling. However, the current DMN version also includes many programming constructs which complicate the acceptance of the standard by business analysts. In this presentation we will analyze such DMN constructs and suggest how to replace many of them with commonly used decision tables. We will use examples of practical decision models to demonstrate how to use DMN while avoiding programming.
Learning Objectives:
Analyzing business-friendly and not so friendly DMN constructs
Proposing replacements for not business-friendly DMN constructs
Using practical examples of complex decision models yet avoiding programming
Event Trail(s)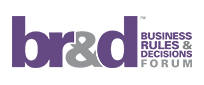 Speaker(s)

Dr. Jacob Feldman
Founder / CTO
OpenRules, Inc.
Dr. Jacob Feldman is the CTO of OpenRules, Inc., a NJ corporation that created and maintains the highly popular Open Source Business Rules and Decision Management System commonly known as "OpenRules" (http://openrules.com). He has extensive experience in development of decision support software using business rules, optimization, and machine learning technologies for real-world mission-critical applications. He is a frequent presenter at the major business rules events and a contributor to www.DMCommunity.org and other Decision Management social forums. Jacob is also a Specification Lead for the JCP standard JSR-331. Dr. Feldman is an author of the book "DMN in Action with OpenRules" - see www.DMNinAction.com
Jacob's 2017 Presentations:
Decision Modeling in Action with DMN and OpenRules


Thursday, November 9, 2017 (10:55 am – 11:15 am)

How Business Analysts Build Executable Decision Models Using DMN

Without Programming




Friday, November 10, 2017 (9:00 am – 10:00 am)