10:20 am – 11:20 am | Presentation | Room: Oceana 11 & 12
Governance for Business Rules and Vocabulary — Does One Size Fit All?
Presented by: Cindy Scullion

Governance can be a pretty broad topic – so this presentation is going to focus on what it takes to govern your corporation's intellectual property, i.e. the business rules and the vocabulary used in the rules that guide your business practices. Are you trying to wrap your organization around the need for governance? Are you trying to figure out what it is and how it fits with your business rules? This presentation will address such issues as what needs to be governed, how much needs to be governed, who needs to be involved, what a sample process could look like.
Each organization will have unique features that need to be considered when addressing the governance questions, but there are some fundamental questions that all should address.
What you will learn about business rules and vocabulary governance:
What needs to be governed
What is involved in the governance
Who should be involved
How to ensure acceptance
Event Trail(s)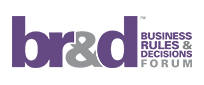 Speaker(s)

Cindy Scullion
Senior Consultant
Business Rule Solutions, LLC
Cindy Scullion is a Senior Consultant with Business Rule Solutions, LLC (BRS). She has worked with numerous companies in industries such as the energy sector (power, oil & gas), transportation (rail), insurance, health care, finance, and hi-tech. Cindy is a key member of the BRS team, assisting numerous clients with all facets of business rule management. She also conducts training in RuleXpress, the business rule management tool from RuleArts. Her thirty-plus year career has encompassed roles as management consultant, project manager, business analyst and coach/mentor.
Cindy's 2017 Presentations:
Governance for Business Rules and Vocabulary — Does One Size Fit All?


Friday, November 10, 2017 (10:20 am – 11:20 am)