4:20 pm – 5:05 pm | Presentation | Room: Grand Oaks EF
Decision Models and Services at the Sociale Verzekeringsbank
Presented by: Margriet Lohman

Sociale Verzekeringsbank (SVB) is responsible for implementing social security schemes in the Netherlands. Business Rules Management at SVB is involved in designing decision models, and in building, testing and implementing decision wizards for case workers.
The presentation discusses the methodology and tools used. The major benefits of Business Rules Management at the organization are discussed, as well as next steps. The presentation includes a demo of a decision wizard and illustrates implementation of a change in regulations.
Learning Objectives:
To learn about decision modeling
To learn about the benefits of Business Rules Management
To learn about the strategy of introducing Business Rules Management
To learn how to succesfully involve SME's and policy advisors
Event Trail(s)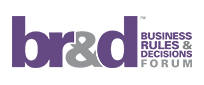 Speaker(s)

Margriet Lohman
Business Rules Specialist
Sociale Verzekeringsbank
Margriet Lohman, senior business rules analyst at the Sociale Verzekeringsbank in the Netherlands.
As an experienced business and process analyst, I switched to business rules modelling in 2013. I am a strong believer of the major benefits of transparent modeling of business knowledge and extracting business logic from legacy systems to achieve more agility.
As one of the founders of our Business Rules Team, I designed our development process, drafted guidelines, specialized in the methods and tools. We've had successful implementations of decision wizards and we are about to launch our first decision services. I participate in the national government expertise group of Business Rules Management, which organizes mini conferences every half year.
Margriet's 2018 Presentations:
Decision Models and Services at the Sociale Verzekeringsbank


Wednesday, November 7, 2018 (4:20 pm – 5:05 pm)