1:30 pm – 4:30 pm | Pre-Conference Tutorial | Room: Grand Oaks H
Business Decision Tables
Presented by: Jan Vanthienen
During the execution of a business process, a plethora of decisions need to be made in order to ensure the correct enactment of the business process. With increasing demand for business process automation, the need for the automation of routine business decisions grows, as business processes can contain a lot of decisions or can even be the enactment of one major decision: granting a loan, insurance or premium; simple diagnosis; etc. In order to improve and speed up processes, also decisions have to be improved and automated.
The business logic of those decisions must be captured effectively by the business. Decision logic can be expressed in many forms of which decision tables are the most important. Decision tables have always been known for their ability to offer a compact, readable and manageable overview of decision logic. They have been refined throughout the years into a clear and powerful modeling technique (as present in DMN) with unique features such as consistency, completeness, correctness.
This tutorial takes you through decision table methodology, including best practices, examples and experiences, for modeling decision rules by business experts in real business situations (insurance, legislation, credit scoring, operating procedures, …).
What you will learn:
How to organize related decision rules into correct and agile decision tables
A simple 8 step method to construct decision tables in the DMN standard
How decision modeling can be used with, without, before or next to business process modeling
And mainly: lessons from a long experience on how to build, analyze and verify decision table models for business analysis in numerous application domains
Event Trail(s)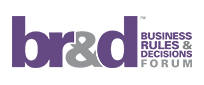 Speaker(s)

Jan Vanthienen
Professor in Information Management
K.U. Leuven
Jan Vanthienen is professor of information management at the Business Information Systems Group of KU Leuven (Belgium), where he is teaching and researching on business rules, processes and decisions. The area of business rules modeling, validation and verification, and decision modeling in the context of business process modeling has been his major area of research and expertise for many years. He is a regular speaker at BBC, where his nickname seems to be: not (just) the decision table guy.
Jan's 2018 Presentations:
Business Decision Tables


Monday, November 5, 2018 (1:30 pm – 4:30 pm)

Decisions and Processes: Which Comes First?


Friday, November 9, 2018 (8:00 am – 8:45 am)