1:30 pm – 4:30 pm | Pre-Conference Tutorial | Room: Java 1 & 2
Decision-Centric Business Transformation: Decision Modeling
Presented by: James Taylor
Whether simplifying business processes; increasing straight through processing; applying big data, advanced analytics or AI/cognitive technology; or looking for dramatic reductions in time to market, many transformation opportunities require a focus on decision-making. In fact, a focus on decisions first, decision-centric business transformation, is often the most effective way to achieve long-lasting transformation.
This tutorial introduces decision modeling, a must know technique that aligns processes, business rules, analytics and data to maximize business value. Decision models provide a framework for transforming your business with business rules and analytics. You will learn how to build decision models rapidly and iteratively, improving your ability to communicate requirements and deliver decision-centric transformation.
Graphical decision models based on the Decision Model and Notation (DMN) standard are easy to create and easy to communicate. The business focused decision structure provides needed clarity and facilitates collaboration and conflict resolution across business, IT and analytics teams. Flexible enough to keep up with today's rapidly changing requirements, decision modeling helps stakeholders focus on the real needs of their organization.
Decision modeling supports transformation efforts by providing a business-oriented structure that supports business rules for agility, simplifies and streamlines business processes, focuses data and analytic technologies on business problems and more. The widespread industry adoption of the DMN standard and the inclusion of decision modeling in the IIBA® BABOK® demonstrate the increasing criticality of this powerful approach.
This tutorial is self-contained but is designed to be complemented by the Decision-Centric Business Transformation: Decision Table Modeling tutorial by Jan Vanthienen.
Attendees will get a free copy of the new book "Real-World Decision Modeling with DMN" by James Taylor and Jan Purchase, (Meghan-Kiffer, 2016).
What you will learn:
How to define decision requirements using the DMN standard
How to use a focus on decisions for business transformation
How to use decision requirements models to orchestrate analytic and rules technologies
How to get started using decision requirements modeling on your projects
Event Trail(s)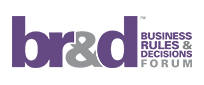 Speaker(s)

James Taylor
CEO
Decision Management Solutions
James is a leading expert in how to use business rules and analytic technology to build decision management systems. He is passionate about using decision management systems to help companies improve decision-making and develop an agile, analytic and adaptive business. He provides strategic consulting to companies of all sizes, working with clients in all sectors to adopt decision-making technology. James is a faculty member of the International Institute for Analytics and is the author of multiple books and articles on decision management, decision modeling, predictive analytics and business rules. He writes a regular blog at JT on EDM and contributes to standards such as the IIBA's BABOK® Guide and OMG's Decision Model and Notation (DMN). James also delivers webinars, workshops and training.
James's 2017 Presentations:
Decision-Centric Business Transformation: Decision Modeling


Monday, November 6, 2017 (1:30 pm – 4:30 pm)

Maximizing the Value of a BRMS with Decision Modeling


Wednesday, November 8, 2017 (4:50 pm – 5:50 pm)

Adopting Process and Decision Technology - the Subject Matter Expert's Perspective


Thursday, November 9, 2017 (4:50 pm – 5:50 pm)