4:50 pm – 5:50 pm | Presentation | Room: Banda Sea 1 & 2
Maximizing the Value of a BRMS with Decision Modeling
Presented by: James Taylor

Several recent projects have combined decision modeling and the Decision Model and Notation (DMN) standard with a Business Rules Management System. The use of decision modeling as the core requirements modeling technique at the start of these projects has resulted in a reinvention of how BRMS projects work. Using a DMN decision model to structure the business rules being implemented in the BRMS results in simpler, easier to manage business rules with less duplication. Decision modeling can be applied iteratively, supporting an agile approach and playing to the adaptability of a modern BRMS. The use of a decision model also fundamentally changes how decision outcomes can be analyzed, making continuous improvement a reality. And for organizations considering analytic and cognitive technology to complement their BRMS, decision models provide a coherent implementation framework.
Illustrated with real-world experience from Asia and North America in customer next best action, compliance, claims processing and authorization use cases, this presentation will show you how to reinvent your BRMS implementation approach and maximize the value of your BRMS investment.
Learning Objectives:
Introduce the basics of Decision Modeling with DMN
Show how decision modeling structures business rules in a BRMS
Explain role of decision modeling in continuous improvement
Show how decision models support agile BRMS implementation
Show how decision models position analytics and cognitive technology for success
Event Trail(s)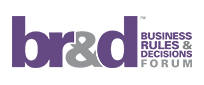 Speaker(s)

James Taylor
CEO
Decision Management Solutions
James is a leading expert in how to use business rules and analytic technology to build decision management systems. He is passionate about using decision management systems to help companies improve decision-making and develop an agile, analytic and adaptive business. He provides strategic consulting to companies of all sizes, working with clients in all sectors to adopt decision-making technology. James is a faculty member of the International Institute for Analytics and is the author of multiple books and articles on decision management, decision modeling, predictive analytics and business rules. He writes a regular blog at JT on EDM and contributes to standards such as the IIBA's BABOK® Guide and OMG's Decision Model and Notation (DMN). James also delivers webinars, workshops and training.
James's 2017 Presentations:
Decision-Centric Business Transformation: Decision Modeling


Monday, November 6, 2017 (1:30 pm – 4:30 pm)

Maximizing the Value of a BRMS with Decision Modeling


Wednesday, November 8, 2017 (4:50 pm – 5:50 pm)

Adopting Process and Decision Technology - the Subject Matter Expert's Perspective


Thursday, November 9, 2017 (4:50 pm – 5:50 pm)