1:30 pm – 4:30 pm | Pre-Conference Tutorial | Room: Oceana 3-5
Techniques for Explicit Business Knowledge Engineering
Presented by: Ronald G. Ross
Many of us think all our work is ultimately just about requirements for IT system design. It's not. Do you have the vision to go beyond that view? If so, you need to start thinking about the larger set of audiences for operational business knowledge. What uses does that knowledge have? How do you develop and organize it for scaled-up re-use? What can it do for you?
This advanced tutorial discusses three pragmatic techniques to develop and exploit explicit operational business knowledge effectively:
Structured business vocabulary (concept models). Learn the structural techniques needed to build a robust business glossary and operational knowledge blueprint.
Decision engineering. Look at operational business decisions from a business point of view, analyze their inherent structure, and capture the business logic needed to support them.
Operational knowledge dependency chain. Take an enterprise view of explicit operational knowledge, understand its natural dependencies, and use it for strategic assessment.
You'll walk away from this advanced tutorial with new insights about how your company can operate more effectively in the digital economy. It's guaranteed to change the way you think about requirements!
Create a blueprint to bring down the Tower of Babel and enable real BusinessSpeak
Bring new vigor to business processes by organizing their operational knowledge independently
Learn about an innovative, knowledge-based approach for strategic assessment of application and project portfolios
Event Trail(s)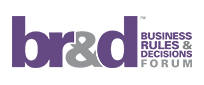 Speaker(s)

Ronald G.Ross
Co-Founder & Principal
Business Rule Solutions, LLC
Executive Editor
BRCommunity.com
Ronald G. Ross is Principal and Co-Founder of Business Rule Solutions, LLC (BRS), where he actively develops and applies the BABusinessSpeak™ methodology including RuleSpeak®, DecisionSpeak™, and ConceptSpeak™. Ron consults to companies worldwide through BRS.
Ron is recognized internationally as the "father of business rules." He is the author of ten professional books including the groundbreaking first book on business rules The Business Rule Book in 1994. His newest are:
Ron serves as Executive Editor of BRCommunity.com and its flagship publication, Business Rules Journal. He is a sought-after speaker at conferences world-wide. More than 50,000 people have heard him speak; many more have attended his seminars and read his books.
Ron has served as Chair of the annual International Business Rules & Decisions Forum conference since 1997, now part of the Building Business Capability (BBC) conference. He was a charter member of the Business Rules Group (BRG) in the 1980s, and an editor of its Business Motivation Model (BMM) standard and the Business Rules Manifesto. He is active in OMG standards development, with core involvement in SBVR. He was also a contributor to the IIBA's BABOK v3.
Ron holds a BA from Rice University and an MS in information science from Illinois Institute of Technology.
For more information about Mr. Ross, visit www.RonRoss.info, which hosts his blog.
Tweets: @Ronald_G_Ross
Ronald's 2017 Presentations: