9:00 am – 10:00 am |

| Room: Pacifica Ballroom 4-6
Business Knowledge Engineering
Presented by: Ronald G. Ross

It's a simple truism that today's world turns on knowledge. To enable meaningful business transformation we must learn to engineer and reuse that knowledge.
We don't do that very well today. Professionals re-invent, re-specify and re-design operational business knowledge essentially from scratch on each new project. We spend little or no time thinking about how to re-use it, or how to leverage it to reduce the start-up cost and risk of other projects. We pay a huge downstream price in servicing legacy. Nothing agile about that whatsoever.
We should step back and ask ourselves some hard questions. What's really needed to:
Retain and reuse hard-won knowledge?
Cope with massive, multi-faceted change?
Address overwhelming complexity?
The answers are tightly bound to what we do about explicit operational business knowledge. That knowledge needs to be captured and communicated then made accessible and manageable as an asset in its own right. In the process amazing new business capabilities emerge.
Learning Objectives:
Look at today's business challenges from a whole new perspective
Understand how business rules relate to explicit knowledge
Gear up to re-use knowledge in a digital world
Event Trail(s)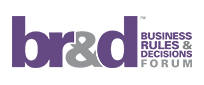 Speaker(s)

Ronald G.Ross
Co-Founder & Principal
Business Rule Solutions, LLC
Executive Editor
BRCommunity.com
Ronald G. Ross is Principal and Co-Founder of Business Rule Solutions, LLC (BRS), where he actively develops and applies the BABusinessSpeak™ methodology including RuleSpeak®, DecisionSpeak™, and ConceptSpeak™. Ron consults to companies worldwide through BRS.
Ron is recognized internationally as the "father of business rules." He is the author of ten professional books including the groundbreaking first book on business rules The Business Rule Book in 1994. His newest are:
Ron serves as Executive Editor of BRCommunity.com and its flagship publication, Business Rules Journal. He is a sought-after speaker at conferences world-wide. More than 50,000 people have heard him speak; many more have attended his seminars and read his books.
Ron has served as Chair of the annual International Business Rules & Decisions Forum conference since 1997, now part of the Building Business Capability (BBC) conference. He was a charter member of the Business Rules Group (BRG) in the 1980s, and an editor of its Business Motivation Model (BMM) standard and the Business Rules Manifesto. He is active in OMG standards development, with core involvement in SBVR. He was also a contributor to the IIBA's BABOK v3.
Ron holds a BA from Rice University and an MS in information science from Illinois Institute of Technology.
For more information about Mr. Ross, visit www.RonRoss.info, which hosts his blog.
Tweets: @Ronald_G_Ross
Ronald's 2017 Presentations: